Jon Renau Kim Wig Reviews
There is long and then there is oh my! The Kim wig by Jon Renau clearly falls into the latter, and for those who like the celebration of long hair, this is one product that deserves a serious look. Kim will bring you attention, visibility and happiness without a lifetime of work and waiting.  With exquisite remy human hair and a crafted wig cap design for comfort and an undetectable natural look, Kim is Jon Renau magic in a box. Wig Reviews by Isabel is proud to give you Jon Renau Kim Wig Review.
Kim is a long layered wig. At 18 inches at the crown and sides and 20 inches at the nape this is one of the longest wigs on the market today. It will reach to the mid back or even the waist but interestingly it does not look excessive or unrealistic. Kim promises a natural flow and movement that is identical to biological hair and will not elicit curiosity. The hair is arranged in light density which means that Kim is very light weight.
This piece is an amazing example of Remy Human Hair quality… But what is Remy Human Hair?  Remy hair is considered to be the highest quality of human hair. It means the hair collected is healthy, the cuticles intact and all cuticles flow in the same direction from root to the tip. This reduces the propensity for the hair and the wig to tangle or matte and presents a smoother, shinier, and healthier appearance.
The downside to Jon Renau Kim is that because it is made from human hair, it will not hold styling like synthetic wigs. (See Pros and Cons of Human Hair Wigs) Daily wear requires daily styling. The upside of course is that this is the same biological hair and it presents the wearer with a wide range of options. Kim comes out the box straight but then the fun begins. You may use heat appliances such as rollers, curling or straightening irons to give your human hair wig any personal style and the trip to the salon for coloring and styling can still be part of the routine. Kim offers immense versatility but like any 20" hair do it does require attention and grooming.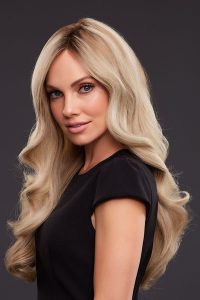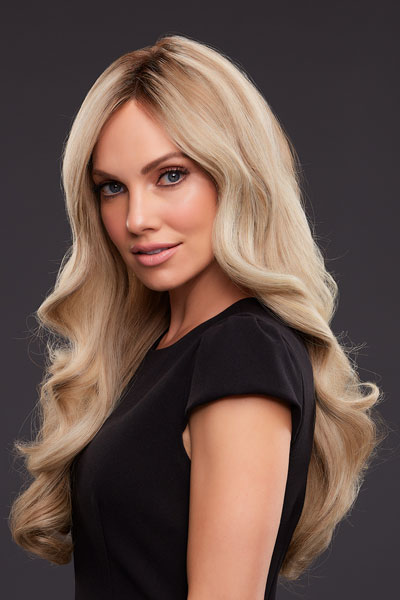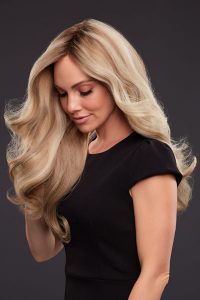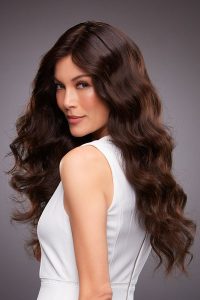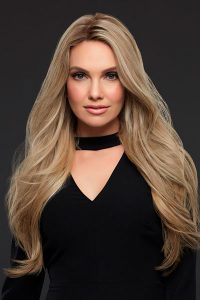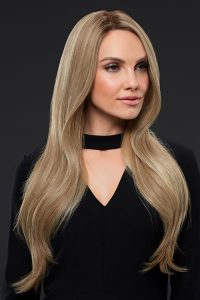 Colors Shown: 12FS8/ 4RN / 12FS12 – Malibu Blonde
Kim's cap has a lace front from the Jon Renau SmartLace collection and a hand tied monofilament cap that provides supreme comfort and a confident natural part. The lace front is constructed with a fine, sheer material to which hair is individually hand-tied creating the appearance of a natural hair line… no distinction from Bio hair.  Jon Renau's lace front caps are renowned for their comfort and promises no scratching or irritation. They are also very durable and they stand up well to the rigors of daily wear and this of course extends the life of the piece.
Jon Renau Kim's cap is 100% hand tied where every hair is tied to the cap by hand. In contrast to a basic machine made wefted cap which takes about 3 hours to make, hand tying can take up to 30 hours. The knots are arranged in a multi directional format that allows for unlimited parting and styling options. Ponytails…Yes. Braids…Yes. Updo's… Absolutely.  The caps also stretch to accommodate all head sizes and are very true to life.
Jon Renau Kim Wig Color Options:
Kim is brought to you with a full spectrum of Jon Renau Human Hair colors and is available in the regular human hair colors as well as the Renau Exclusive colors which come at a slight premium. (See Understanding Jon Renau Colors) The fabulous California Blonde collection colors are an obvious choice with four blonde colors that are gently rooted and highlighted. They exude Southern California vitality and health and are guaranteed to get you noticed.  The collection consists of 4 amazing options… Malibu Blonde – 12FS12, Venice Blonde – 22F16S8, Laguna Blonde – FS24/102S12 and Palm Springs Blonde – FS17/101S18. (See Best Blonde Wigs with Dark Roots) Alternatively, Kim is available in an array of Renau Natural colors (RN). Renau Naturals are processed without the use of textile-like dyes, therefore allowing professional alternative hair colorists to lift and deposit color up to 2-3 levels of color successfully. (4RN, 6RN, 8RN, FS12/26RN, 24B22RN). This obviously further enhances the versatility of the piece.
Summary:
Overall, Jon Renau Kim is a fantastic product. It is long and bold and will get you noticed. It is made from the finest human hair and exquisite cap design to give you comfort and an amazing natural look. Styling options abound and color options are broad and varied to grant you the look you want. Kim can be purchased at the the following link:
LA Wig Company:
The Los Angeles Wig Company is a distributor of fine wigs, toppers and hairpieces. We proudly represent Jon Renau, Noriko, Rene of Paris and Raquel Welch wigs and toppers and extensions. We believe that our products will make you Look Classy and Feel Fabulous and all at a great price. Ground shipping is always free for all orders placed at www.LAwigCompany.com