What are Easipieces by Jon Renau?
Easipieces by Jon Renau are Individual Clip-in hair volumizers that add subtle, balancing volume to complement any hair topper for a fuller look. All options are Remy Human Hair. Designed with a slim polyurethane base that lays flat against the head making them undetectable. Available in 8″, 12″ and 16″ lengths on 4″, 6″ and 9″ width bases. Configured and attachable with pressure sensitive clips. Either 2, 3 or 4 clip configurations. Are sold individually to customize any look.  Buy them more than one and wear them together to create a complete hair system with endless possibilities.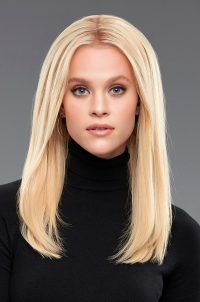 Quick View
Designed with an undetectable low profile, clip-in easipieces add suble, balancing volume that compliments a lightweight topper for a full, natural look. Made with the highest quality remy human hair on a slim, slender polyurethane base designs - easipieces are available in three hair lengths: 8-, 12- & 16 inches, and three widths: 4-, 6- & 9 inches.