What is Easipart by Jon Renau?
EasiPart by Jon Renau is a collection of  Remy Human Hair and Heat Defiant Synthetic hair toppers that offer seamless volume and coverage at the top of the head. Featuring a monofilament base and are ideal for covering thinning or concealing new growth between colors or adding volume. Easipart attaches with 4 pressure sensitive clips which provides an easy and secure fit.
Easipart Topper is available in 8inch, 12 inch and 18 inch lengths in either Synthetic or French or French XL base with added monofilament and French knotting for added comfort and amazing natural look.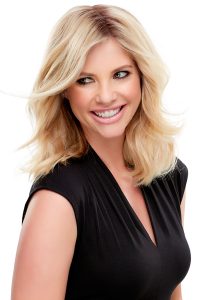 Quick View
This one-piece volumizer adds instant thickness with naturally stunning Remy human hair. It clips in quickly and easily for all-day comfort and can be styled with heat to create any look. Available in lengths of 8, 12 and 18 inches with options for both beginning and beginning-mid stages of hair loss.