What is a Hand Tied Wig?
What is a 100% Hand Tied Wig?  100% of the cap (back and sides, front, and crown) is hand tied allowing the wig to move and flow like natural hair.
Showing 1–51 of 67 results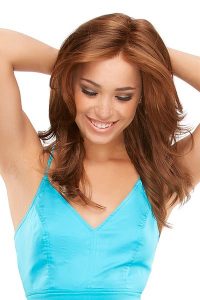 Quick View
Jon Renau Adriana: Lace Front, Monofilament Synthetic Wig
The Jon Renau Adriana Wig is a Long Layered, Smartlace Synthetic Wig: With a hand-tied monofilament cap, this lace front wig has the weightless movement of healthy, natural hair. Adriana's long, wavy layers embody classic femininity.
Colors Shown: 4/27/30 (Carrot Cake), 12FS8 (Shaded Praline)
Jon Renau Synthetic Color Chart
Showing 1–51 of 67 results