What is a Monofilament Cap?
Monofilament feature means that each hair is tied to a soft lace material by hand. A monofilament crown, part, or top mimics the appearance of hair growth from the scalp. Hair can be parted in either direction and helps the wig look much more natural.  The sheer mesh also lets your scalp show through for the most realistic look possible.
Showing 1–51 of 231 results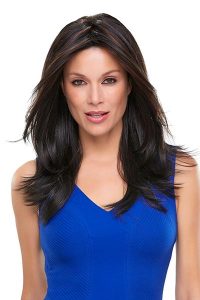 Quick View
Jon Renau Alessandra: Lace Front, Monofilament, Synthetic Wig
Jon Renau Allessandra is a Long Layered, Smartlace Synthetic Wig:
An invisible lace front and monofilament top make this chic, long layered style one of the best lace front wigs on the market. Alessandra's graduated layers bring modern verve to a classic knockout.
Colors Shown: 1BRH30 (Mocha Truffle), 14-2610 (Shaded Pralines & Cream), FS24_102S12 (Laguna Blonde)
Jon Renau Synthetic Color Chart
Showing 1–51 of 231 results