Understanding Jon Renau Colors:
Jon Renau is renowned for the breadth and quality of its color selection but understanding Jon Renau Colors options can often be challenging and confusing. The color chart is a jumble of numbers and letters, each has a specific meaning but it takes some homework to figure out how to navigate the Jon Renau Color Chart. Jon Renau's approach to color is characterized by attention to detail, style and coloring technology and produces a broad color selection that uses multi-tonal blending to replicate the vibrant natural shimmer of healthy hair.  In addition, contemporary shaded, tipped, layered, and highlighted color options give customers the freedom of choice and the colors that women want.
Jon Renau Human Hair Color Chart
Jon Renau Color Coding System:
However, Finding the perfect color shade is not always easy but customers are helped by a systematic approach developed by Jon Renau. The approach is starts with an industry standard spectrum of base color levels that range from black through brunette, blonde, red and grey/platinum. Each level is represented by a number.
What are Color Levels?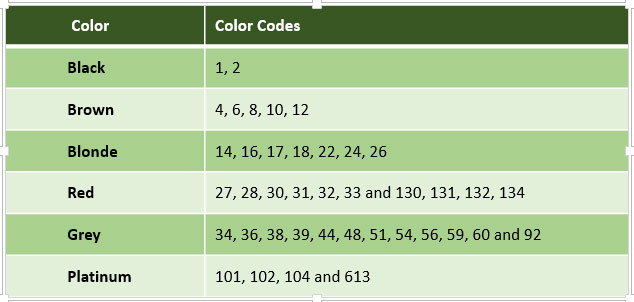 What are Jon Renau Color Codes:
Given that bio hair is made up of a number of different colors in a blend and more recent trends in hair coloring have adopted gradients, highlights and shading, it is necessary to go beyond the base color levels to create these blends. This is where the color coding comes in. Jon Renau has categorized their coding and color variants into 3 color families. Blended + Tipped, Highlights and Exclusive.
Color Levels and Jon Renau Codes Combined:
The final stage in the Jon Renau Color Coding Process is to tie the color levels with the color codes. The first number identifies the base color and the following color codes will identify the blend or highlight.
Summary; Understanding Jon Renau Colors
Jon Renau colors are vibrant, varied and contemporary and a color coding system was developed to help customers find the perfect shade. Hopefully this translator helped to demystify the color selection process.
Where to Buy Jon Renau Wigs?
The LA Wig Company is an online wig boutique with a staunch commitment to quality products, great service and unbeatable prices. We are proud to represent the Jon Renau Wig Collections. They can be found online at www.LAWigCompany.com