Heidi Jon Renau Wig Review:
Are you looking for a perfect mid-long length wig with impeccable styling and limitless styling options? Jon Renau Heidi wig may be your answer. This piece has a large and very loyal following based on gentle waves along with what many describe as the Goldilocks length… not too long and not too short… just right. Wig Reviews by Isabel is proud to give you the Angie Jon Renau Wig Review
Shop Heidi Wig by Jon Renau
Styling Options:
Heidi by Jon Renau is a long to mid length style with long layers that turn into soft beachy, body waves towards the tips. It is made from Jon Renau synthetic fiber and as a result this gentle wavy curl pattern comes straight out of the box and will last in place requiring little to no maintenance.  Heidi comes with generous 7 inch bangs that can be swept back or to the sides or allowed to fall forward and frame the face. The 10 1/2 inch sides present options for wearing back behind the shoulders or forward as a cascade surrounding the face.  The cut at the sides appears slightly graduated from back to front which has gives the added volume when worn forward. Jon Renau Heidi has added permatease at the temples and the sides to give the piece additional lift. The appearance is significant when compared to Jon Renau's Rachel which is a similar style and cut (albeit slightly longer) and the added volume on the sides and top of Heidi is really quite evident. Not over done and not un-natural but certainly an attractive quality for those looking for added volume and density. The 15inch back tumbles to the shoulder blades in a shower of soft waves that are dramatic and heavenly. With it's length, Jon Renau's Heidi wig presents options for accessories. Pony tails look fabulous, a clipped to the side look is alluring and then of course you can just let it go with a sweep to the side or back.
Colors Shown: 22F16S8 (Venice Blonde), 14-26S10 (Shaded Pralines & Cream), 4-33 (Chocolate Raspberry Truffle)
Cap Construction:
Comfortable, light weight and natural looking. Heidi by Jon Renau is part of the Jon Renau Smartlace collection which incorporates the impeccable Jon Renau lace front. Discrete, subtle and delicate. The lace front gives the impression of a natural hair line even to the closest observer and this enables off the face styling with confidence. The monofilament top gives the appearance of bio scalp and allows for parting on either side without cause for concern. The stretchy open wefted cap is cool, ventilated and comfortable and shapes nicely to the head for secure fit.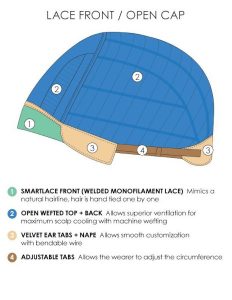 Color Options:
As the popularity of Jon Renau's Heidi wig has grown over the years, so too have the color options. Today Heidi is available in 37 Jon Renau colors with generous options in the brunette range. It also includes 5 of the edgier Rooted shades (like FS2V/31V Chocolate Cherry) and in 2019 the crazy popular Jon Renau California Blonde Collection shades were added. 22F16S8 Venice Blonde with a blend of Light Ash Blonde and Light Natural Blonde , Shaded with Shaded with a medium brown has become fan favorite. 14/26S10 Shaded Pralines and Cream with blended Light Gold Blonde and Medium Red-Gold Blonde and shaded light brown is also a bestseller.
Angie Jon Renau Wig Review Summary:
Try it and you will fall in love. The length is perfect, the waves are to die for and the volume up top and at the sides will make you a fan. This is a fabulous synthetic wig which will give you a lot of fun and a lot of wow without the work. It will deliver from the moment that you open the box.  Enjoy!
Shop Heidi Wig by Jon Renau
Where to Buy Jon Renau Wigs?
The LA Wig Company is an online wig boutique with a staunch commitment to quality products, great service and unbeatable prices. We are proud to represent the Jon Renau Wig Collections. They can be found online at www.LAWigCompany.com