Advanced French Wig Raquel Welch Wig Review
In French culture the short, chic, undone "look" is a way of life and is the inspiration for the Advanced French Wig from Raquel Welch. The look is tousled, transitional and simple and responds to the question "what kind of style can I achieve in five minutes that looks like I spent an hour in front of the mirror?" This style was launched in the Fall of 2018 and has become a go-to selection for those seeking easy, stylish and versatile. Wig Reviews by Isabel is proud to give you the Advanced French Wig Raquel Welch Wig Review.
Shop Advanced French by Raquel Welch
Styling Options:
The French have the envious ability of exerting minimal effort to their appearance yet still having a tailored, chic look. They go for simple and easy and with the run of a hand can achieve a new look in moments. This is the magic of Raquel Welch's Advanced French wig.  This short, textured boy cut with generous bangs, tight sides and back and full, long layers at the top and crown. The 4 inch fringe can be worn framing the face or swept back and to the side, the 1 3/4 inch sides are short and will not fully cover the ears but can be pushed forward or tucked behind the ears. 4 inch long layers at the crown provide the signature shape and volume to this piece. The thick permatease located at the crown delivers height, body and lift to the style that gives it a natural dimension and offers some fabulous styling options. Wear it straight and smooth in a classy, sophisticated look or tousled, disheveled and crazy for that windswept look.  The 1 3/4 inch nape hugs the neck tightly in a short, sculpted back for a clean tailored look from behind.
Advanced French is part of the Raquel Welch Signature Collection and is made from Raquel Welch's True2Life Head Defiant fiber. This fiber will take heat up to 350 degrees so styling tools are an option. The fiber will hold styling nicely with the application of heat but because of its short length some of the most amazing results can be achieved with simple finger combing. Within moments one can create a piecey, side swept creation that is quite fantastic. Advanced French responds beautifully to the most simple care and is a breeze to maintain.
Cap Construction
Raquel Welch's Advanced French Wig is created around the exquisite Memory Cap 3 base which is an open cap. The wefts flex and stretch and mold comfortably and shape nicely to the head. The stretchy ribs are covered in a layer of silicone which in unique to Raquel Welch wigs and prevents slipping and sliding and ultimately a more secure, confident fit.  The Advanced French wig cap does not incorporate any monofilament and as such does not promote styles that involve a parting. It does, however, have the delicate temple to temple lace front that creates that discrete and almost undetectable hair line that makes Raquel Welch wigs so great. The fiber is hand tied into the lace front to create a subtle and totally natural hairline and this promotes all kinds of off the face styling options that give the Advanced French wig so much styling versatility.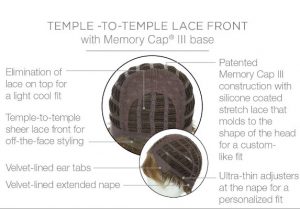 Color Options.
29 color options are available for Advanced French by Raquel Welch. Included are 6 Shadow Shades which have become immensely popular in Raquel Welch wigs in the past few years. Shadow Shades feature a darker color depth at the root which simulates more natural growing hair. These colors are often denoted in the color descriptions with "SS" in the color code.  In addition, there are 4 grey shades that have also become bestsellers and are certainly worth checking out.  RL19/23SS Shaded Biscuit and RL8/29 Hazelnut are customer favorites.
Advanced French Wig Raquel Welch Wig Review Summary:
If you are looking for a short to mid length style with lots of character and versatility then Advanced French by Raquel Welch may be worth a look. The long layers make chic and sophisticated or wild and carefree possible with the sweep of your fingers.
Shop Advanced French by Raquel Welch
Where to Buy Raquel Welch Wigs?
The LA Wig Company is an online wig boutique with a staunch commitment to quality products, great service and unbeatable prices. We are proud to represent the Raquel Welch Wig Collections. They can be found online at www.LAWigCompany.com