Knockout Raquel Welch Wig Review:
Think 1970s…think Jacqueline Smith in Charlie's Angels perhaps. The Raquel Welch Knockout wig is a long, bombshell of a style that is reminiscent of the 1970's. Fabulous layers of flowing locks that cascade below the shoulders make this a statement piece. It is bold and brash and big and not for the timid or cautious but for those equal to the challenge this is a piece that will get you noticed and you will just love the attention that it brings. With a spectacular wig cap design to produce the ultimate in comfort and a natural look and stunning human hair Knockout lives up to its name.
Shop Knockout by Raquel Welch at LA Wig Company
Styling Options:
The Raquel Welch Knockout wig is a medium/long, human hair wig with long layers and generous volume and density. Combine the length with the human hair and the versatile, Sheer Indulgence wig cap and the styling options become endless. This style will take work and patience but the results can be stunning.  A 8.5 inch front offers an ample fringe for up and off the face dos, a swish and a tuck behind the ear or ties, barrettes and clips for something a little more managed. The fullness of this style resides in the sides and crown at 8 inches and then layers with the 12 inches at the nape to form a shower that falls below the shoulders.  Wear it straight or wear it curled, wear it up or down. No style is off limits.
Images Shown: Knockout in color Chocolate Copper (R6/30H)
Shop Other Black Label Collections Wigs at LA Wig Company
Cap Construction.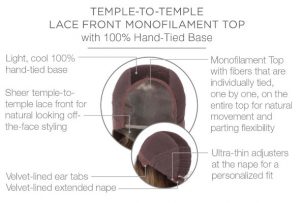 In addition to the styling, the cap construction of the Raquel Welch Knockout wig is critical to its appeal. Being part of the Raquel Welch Black Label Collection, Knockout features the delicate, temple to temple lace front. The subtle blending of hair into the lace front creates an almost invisible hairline that is undetectable to even the closest scrutiny. This not only affords great confidence to the wearer but also opens up a world of off the face styling possibilities. This piece also comes with a monofilament top and a 100% hand tied cap which promises a super comfortable fit but also the illusion of natural movement. The cap in conjunction with the human hair gives Raquel Welch Knockout the closest thing to natural bio hair.
Coloring Options.
There are 18 color shades available for the Knockout by Raquel Welch. Each shade is blended carefully to avoid straight coloring that is a wig giveaway. 6 of the shades are gradient shades  Favorites include R10 Chestnut, R14/25 Honey Ginger and R29S+ Glazed Strawberry.
Shop Knockout by Raquel Welch at LA Wig Company
Knockout Raquel Welch Wig Review Summary:
This is another spectacular offering from the Raquel Welch Black Label Collection. Knockout is a fabulous, versatile piece with human hair and a cap that will deliver a natural look and great comfort. At $980  this is priced to be a special occasion piece.
Where to Buy Raquel Welch Wigs?
The LA Wig Company is an online wig boutique with a staunch commitment to quality products, great service and unbeatable prices. We are proud to represent the Raquel Welch Wig Collections. They can be found online at www.LAWigCompany.com