Flirting with Fashion Raquel Welch Wig Review
The Flirting With Fashion wig by Raquel Welch was introduced in late 2020 as part of the 2020 Fall Collection. It was the shortest and the 3 styles introduced at that time and has rapidly become an LA Wig Company Bestseller. A short, layered, versatile bob with options for shaggy or smooth and all constructed around the fabulous Raquel Welch Memory3 cap. Easy to manage, easy to style, fashion to go!
Shop: Flirting With Fashion by Raquel Welch
Styling Options:
The Flirting With Fashion Raquel Welch wig is a sensational, short, sassy bob. She comes with a generous 4 ½ inch fringe that is long enough to be tucked back behind an ear, swept nonchalantly to the side or teased up to make a true statement. The 6 inch sides and crown provide a fullness and adequate density on top but the volume is a lot lighter than Raquel Welch counterparts. There is stacking at the back that tapers elegantly to a short 2 inch nape creating a piecey, textured back. Wear it shaggy and fluffed for a natural windswept look or smooth and straight for sculpted and manicured creation.
Flirting with Fashion is part of the Raquel Welch Signature Collection and is made from Raquel Welch's True2Life Head Defiant fiber. This fiber will take heat up to 350 degrees so styling tools are an option. The fiber will hold styling nicely with the application of heat so straighten it a little, tighten it a little and keep a wide tooth comb with you at all times for on the spot maintenance. A little finger styling can always style you to perfection.

Flirting With Fashion Wig by Raquel Welch Cap Construction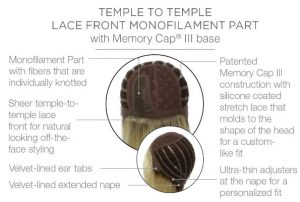 Raquel Welch's Flirting with Fashion Wig is created around the exquisite Memory Cap 3 base with a lace front and a monofilament top. The wefts flex and stretch and mold comfortably and shape nicely to the head. The stretchy ribs are covered in a layer of silicone which in unique to Raquel Welch wigs and prevents slipping and sliding and ultimately a more secure, confident fit.  It is the sheer awesomeness of this cap that would allow the wearer to use Flirting With Fashion as an everyday wig. The Flirting With Fashion wig cap incorporates a monofilament top that promotes styles that involve a parting. Part to the left or the right or even in the center and the monofilament makes each look natural and stylish. The cap also incorporates the delicate and magical temple to temple lace front that creates the most discrete and almost undetectable hair line that makes Raquel Welch wigs so great. The fiber is hand tied into the lace front to create a subtle and totally natural hairline and this promotes all kinds of off the face styling options that give this wig so much styling versatility.
Color Options.
31 True2Life color options are available for Flirting With Fashion by Raquel Welch. Included are 13 Shadow Shades which have become immensely popular in Raquel Welch wigs in the past few years. Shadow Shades feature a darker color depth at the root which simulates more natural growing hair. These colors are often denoted in the color descriptions with "SS" in the color code.  In addition, there are 4 red shades that have also become bestsellers and are certainly worth checking out.  RL19/23SS Shaded Biscuit and RL8/12SS Shaded Mocha are customer favorites and if you are looking for extra spice try the RL29/33SS which is the Shaded Pumpkin Spice
Flirting with Fashion Raquel Welch Wig Review Summary:
Flirting With Fashion by Raquel Welch is a staple go-to for those seeking a bold, flexible and versatile short bob. The cut is fresh, exciting and different than most other run of the mill short bobs. The characteristic stacked, piecey back and the tapered nape is responsible for this style's popular appeal. Casual and carefree for the weekend or smooth and straight for a night out on the town. Price: $335
Shop: Flirting With Fashion by Raquel Welch
Where to Buy Raquel Welch Wigs?
The LA Wig Company is an online wig boutique with a staunch commitment to quality products, great service and unbeatable prices. We are proud to represent the Raquel Welch Wig Collections. They can be found online at www.LAWigCompany.com