Jon Renau Toppers have become customer favorites and are celebrated for their style, function and design. The term Topper is interchangeable with  terms like wiglet, hairpiece, hair enhancer, or top extension and these pieces are designed to add volume to thin or fine hair. Toppers are ideal for early to mid stage hair loss or just volumizing for a night out and have super easy, pressure sensitive clips that are used to attach them to the existing hair.
The Jon Renau Toppers Collection is made up of lines like EasiPart, EasiCrown, EasiPieces, Top Full and Top Smart. Each designed in intricate detail to solve for differing types of hair loss. Some items can be worn alone and some can be worn in combination to create an all around look enhancement.
Showing 1–51 of 90 results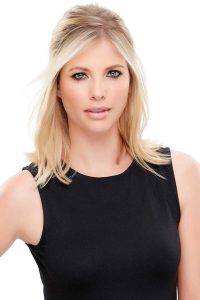 Quick View
This one-piece volumizer adds coverage and volume to the crown and back of the head. It clips in and out easily and can be heat-styled to create any look. Perfect for the beginning stages of hair loss, the HD- heat defiant fiber has a natural texture you are sure to love.
Showing 1–51 of 90 results